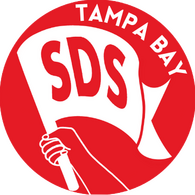 Tampa Bay Students for a Democratic Society
Multi-issue student organization at the University of South Florida fighting to make progressive change on campus and in the greater community! Meetings every Thursday at 5:30 PM in SOC 132!
---
About Us
Tampa Bay SDS is a chapter of a nationwide student-led, multi-issue, action-oriented organization called Students for a Democratic Society. As a chapter at the University of South Florida, we are currently campaigning for the school to fire cops that brutalize students!
DEFEND STUDENTS, NOT COPS!• Fire USFPD Chief of Police Chris Daniel, who initiated the brutality on March 6th and groped a student
• Fire all cops present at our protest on March 6th, when USFPD brutalized and arrested student protesters
• USF President Rhea Law and USFPD must apologize to SDS and the Tampa 5 (Chrisley Carpio, Gia Davila, Lauren Pineiro, Laura Rodriguez, and Jeanie K.)
• USF administration must defend and protect Diversity, Equity, and Inclusion (DEI) programs, Ethnic Studies, and Women's and Gender StudiesFire Chris Daniel! Protesting is Not a Crime! Drop the Charges on the Tampa 5! Defend Ethnic Studies, Diversity Programs, and Women's & Gender Studies! Rhea Law, Shame on You!
---
Justice for the Tampa 5!
Take Action:
Cashapp: $TampaBaySDS
Venmo: @Tampa5
---
---